Film Showcases and Specialty Series
Film Showcases and Specialty Series
Film showcases and specialty series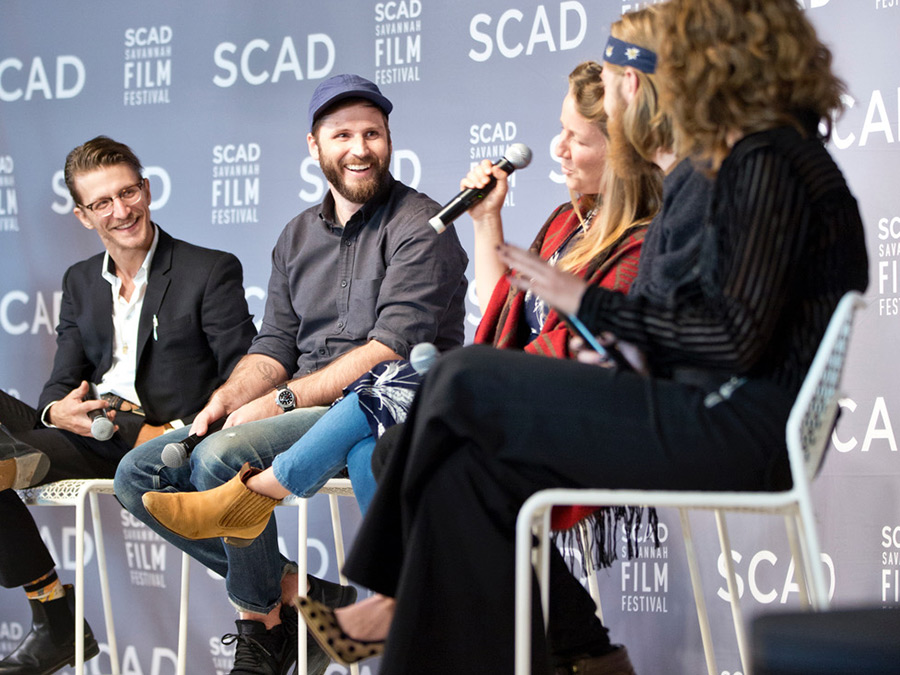 The SCAD Savannah Film Festival offers the best in independent and major studio films from around the world. From feature-length films to two-minute shorts and everything in between, the festival celebrates cinematic excellence from award-winning and emerging filmmakers. More than 100 competition films are selected from more than 1,500 annual entries, along with dozens of panels, workshops, and special guest interviews led by leading entertainment journalists.
Competitions are held in eight categories, including narrative feature, professional short, student short, documentary feature, and animated short, as well as several specialty competition series. The Global Shorts Forum competition reviews films with international perspectives that tackle pressing global issues. The Shorts Spotlight competition includes films that transcend traditional filmmaking modes. Additional programming includes the Southern Voices series, which showcases short films representing authentic regional stories. The Docs to Watch series, hosted by Scott Feinberg of The Hollywood Reporter, presents the top 10 documentaries of the year. The festival's Signature and Gala screenings feature major films slated for the next Oscar season. In 2019, the SCAD Savannah Film Festival screened 173 films, including 23 Academy Award winners and nominees.
Competition
Narrative Features
From side-splitting comedies to heart-wrenching dramas, the narrative feature films selected represent diversity in storytelling, excellence in acting and directing, and exemplary cinematography and editing.
Documentary Features
Beyond simple subject matters, documentaries present compelling stories that illuminate and educate audiences in a thought-provoking and timely manner.
Professional Shorts
Running the gamut of subject matter and style, these short films are selected based on their individual merits in storytelling and execution.
Animated Shorts
Animation has the ability to delight and disturb in equal measures. These animated films represent the diversity of the craft from simple, hand-drawn figures to stop-motion and digital rendering, showcasing unique storytelling at its finest.
Student Shorts
Student shorts represent solid storytelling and emerging visions from a broad range of categories including live action, narrative, documentary, and animation.
Global Shorts Forum
More than 30 powerful short films from a variety of international perspectives tackle pressing issues within our global community, including LGBTQ+ rights, mental illness, homelessness, and women's issues.
Shorts Spotlight
These short films transcend the traditional modes of filmmaking with stories that make us laugh, consider the challenges many people face, and change the way we think about the world around us.
Southern Voices
From Gone with the Wind to Moonlight, films set in the South have a rich and vibrant cinematic history. The Southern Voices series showcases short films with Southern soul representing the authentic voices of the region.
Non-competition
Gala Screenings
Evening screenings are set aside for buzzworthy films that are not yet in wide release or are premiering at the festival. In previous years, many have gone on to win Oscars, Golden Globe Awards, and other prestigious accolades.
Signature Screenings
A selection of feature-length films with aspirations for top awards are screened, followed by discussions with members of the creative talent behind them.
Docs to Watch
This series, hosted by Scott Feinberg of The Hollywood Reporter, showcases the top 10 must-see documentaries of the year that are campaigning for Academy Award recognition. Directors participate in post-screening Q&A sessions, culminating in the Docs to Watch Roundtable.
After Dark
The SCAD Savanah Film Festival's nod to the Halloween season, these late-night feature films are selected to thrill, scare, and shock.
"Every festival has its own identity. The vibe here is good."
— Alec Baldwin, actor
Specialty series
In Conversation
Leading entertainment journalists and professionals sit down with SCAD Savannah Film Festival honorees for an intimate conversation about their career highlights.
Wonder Women
The SCAD Savannah Film Festival honors the achievements and contributions of women in film with panels that focus on directors, producers, and below-the-line talent.
Below the Line
This curated series of panels celebrates the invaluable people who work behind the scenes to make movies possible. Artists and professionals in sound, set production, and costume design, as well as postproduction, casting, and more have been featured.
Animation Corner: Art in Motion
Animation has experienced an artistic resurgence that informs and entertains across generations and across the globe. The SCAD Savannah Film Festival proudly presents a broad array of topics and styles that show how far animation has come.
TV Sidebar
As Hollywood A-listers migrate to episodic storytelling on the small screen, the SCAD Savannah Film Festival presents TV Sidebar, a series of panels and special screenings that highlight the best in television.
Panels and Workshops
Panels and workshops are an essential part of the SCAD Savannah Film Festival programming. From software and special effects demonstrations to discussions and panels with industry stars and insiders, knowledge sharing occurs every day of the festival.
Exhibitions
As a leading art and design university, SCAD recognizes all creative aspects of the filmmaking process. Exceptional props, costumes, and set designs add richness and texture to storytelling. Each year, the SCAD Savannah Film Festival presents exhibitions from select screenings, open to all festival attendees.