An aerial war epic filmed in Savannah and based on the bestselling book of the same name, Devotion tells the harrowing true story of two elite U.S. Navy fighter pilots during the Korean War. Their heroic sacrifices would ultimately make them the Navy's most celebrated wingmen.
Southeast premiere
Actor Jonathan Majors will be presented with the Spotlight Award and director JD Dillard will be presented with the Rising Star Director Award. A Q&A with Majors and Dillard immediately follows the screening.
About the director
JD Dillard has established himself as a director and writer to watch with an extraordinary ability to captivate audiences through authentic yet innovative storytelling. Dillard made his directorial debut with Sleight, which made its rapturous debut at Sundance in 2016. Dillard returned to Sundance in 2019 with the Blumhouse thriller Sweetheart. Devotion is his third feature film.
Full Image
Image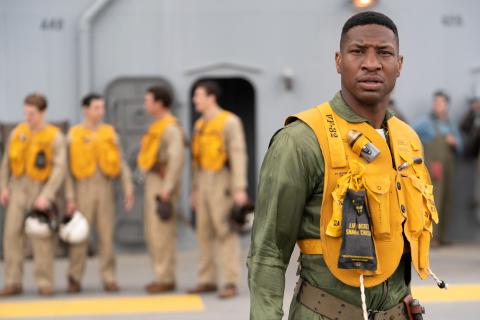 Streaming Start and End Date/Time
Location of production
USA
Producers
Molly Smith, Rachel Smith, Thad Luckinbill, Trent Luckinbill
Cast
Jonathan Majors, Glen Powell, Christina Jackson, Thomas Sadoski, Joe Jonas
Writers
Jake Crane, Jonathan A.H. Stewart
SquadUp Title
Buy tickets