Film showcases and specialty series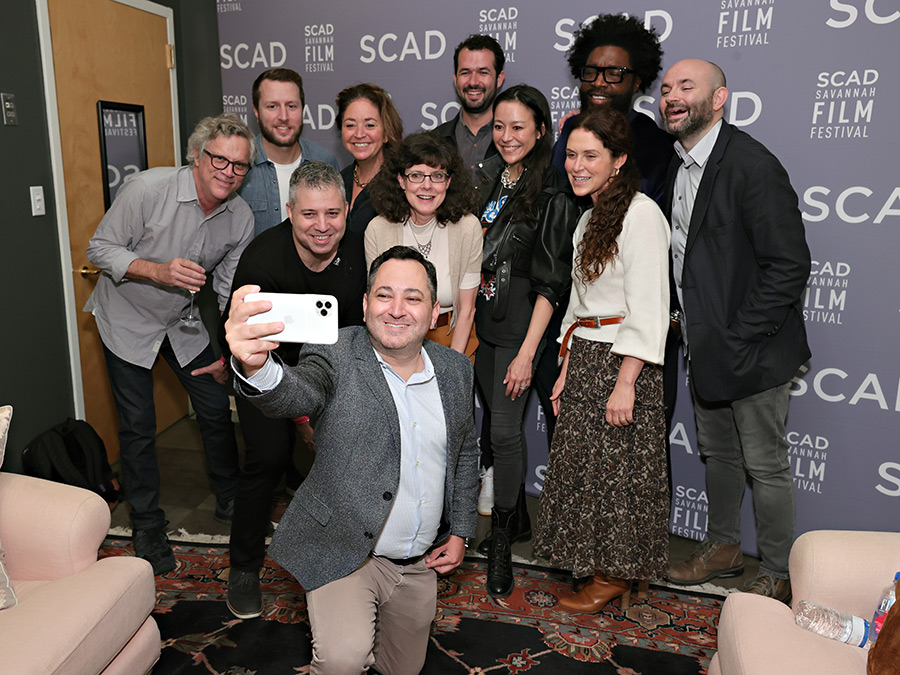 The SCAD Savannah Film Festival offers the best in independent and major studio films from around the world. From feature-length films to two-minute shorts and everything in between, the festival celebrates cinematic excellence from award-winning and emerging filmmakers. More than 100 competition films are selected from more than 2,000 annual entries, along with dozens of panels, workshops, and special guest interviews led by leading entertainment journalists.
Competitions are held in nine categories, including Narrative Features, Professional Shorts, Student Shorts, Documentary Features, and Animated Shorts, as well as several specialty competition series. The festival's Gala Screenings and Signature Screenings feature top and soon-to-be-released films poised for contention in the next Oscar season. The Docs to Watch series, hosted by Scott Feinberg of The Hollywood Reporter, presents the top 10 documentaries of the year. Pixels and Pencils: Top Animated Contenders, hosted by Clayton Davis of Variety, highlights the top animated films of the year.
Film series
After Dark
The SCAD Savannah Film Festival's home for late night fun and genre fare, these soon-to-be-cult-classics are selected to thrill, scare, and entertain.
Docs to Watch
Hosted by Scott Feinberg of The Hollywood Reporter, Docs to Watch showcases the top 10 must-see documentaries of the year that are campaigning for Academy Award recognition. Directors participate in post-screening Q&A sessions, culminating in the Docs to Watch: Directors Roundtable.
Gala Screenings
Get an early look at buzzworthy films premiering at the festival or not yet in wide release. In previous years, these films have gone on to win Academy Awards, Independent Spirit Awards, and other prestigious accolades.
Signature Screenings
A cross-section of the year's top films — from blockbusters and documentaries to independent and international releases — with award aspirations highlights this screening series, which are followed by Q&As with the creative talent behind them.
Pixels and Pencils: Top Animated Contenders
Hosted by Clayton Davis of Variety, Pixels and Pencils spotlights the top animated films of the year. Showcasing a broad array of artistic avenues and animation styles, these films tell compelling stories as they contend for Oscar acclaim. Directors participate in post-screening Q&As and join Davis for a roundtable discussion during the festival.
Specialty series
Entertainment Weekly Breaking Big Awards
In this panel hosted by festival media partner Entertainment Weekly, the breakout stars of today discuss their current projects, how they got their start in entertainment, and what's next in their careers.
Variety's 10 Artisans to Watch
Variety senior artisans editor Jazz Tangcay hosts this panel honoring the behind-the-scenes artists and other rising stars invaluable to the year's best films. The list of honorees reflects contributions across cinematography, costume design, editing, hair and makeup, production design, sound editing and design, and visual effects.
Behind the Lens
This series of panels celebrates the cinematic powerhouses who defied the odds and obstacles to bring us some of the most influential and poignant films and TV series in recent years.
In Conversation
Leading entertainment journalists and professionals sit down with SCAD Savannah Film Festival honorees for an intimate conversation about their career highlights.
Panels and Workshops
Panels and workshops are an essential part of SCAD Savannah Film Festival programming. From software and special effects demonstrations to discussions with industry stars and insiders, festival panels offer key insights on the filmmaking process.
Competition films
Animated Shorts
With the ability to delight and excite, these animated short films represent the diversity of the process — from hand-drawn figures to stop-motion and digital rendering — and showcase unique storytelling at its finest.
Global Shorts Forum
This collection of more than 30 powerful short films from a variety of international perspectives tackles pressing challenges faced by our global community, including BIPOC topics, homelessness, health, and women's issues.
LGBTQIA+ Short Film Competition presented by Amazon MGM Studios
Recognizing the need for more inclusive storytelling, the SCAD Savannah Film Festival and Amazon MGM Studios have partnered to create a dedicated short film competition that offers a platform for emerging queer filmmakers to share their stories and gain mentorship and exposure.
Narrative Features
From side-splitting comedies to heart-wrenching dramas, narrative feature films selected represent diversity in storytelling, excellence in acting and directing, and exemplary cinematography and editing.
Shorts Spotlight
These short films transcend the traditional modes of filmmaking with stories that make us laugh, consider the challenges many people face, and change the way we think about the world around us.
Documentary Features
Beyond simple subject matter, documentaries present compelling stories that illuminate and educate audiences in a thought-provoking and timely manner.
Documentary Shorts
In this mesmerizing collection of shorts, filmmakers explore art, history, politics, and personal profiles to offer a captivating panorama of our world.
Professional Shorts
Running the gamut of topics and styles, these short films are selected based on their individual merits in storytelling and execution.
Student Shorts
In this collection, student short films represent emerging visions from a broad range of styles, including live action, narrative, documentary, and animation.